Knight Newmark-J Summer 2018 Fellows
Dalvin Brown

Dalvin Brown's Knight NewmarkJ internship this summer is at USA Today. In May, he received his bachelor's degree in Business Journalism from CUNY's Baruch College, graduating cum laude with a minor in Political Science.
Dalvin kicked off his final undergraduate year writing for Mashable, a global, multiplatform media and entertainment company. He published commerce stories on technology products, entertainment merchandise and online courses. He also wrote timely news stories for Baruch's award-winning campus magazine, Dollars and Sense.
In 2017, Brown began contributing to his neighborhood's hyperlocal publication, w42st Magazine, where he wrote about Hell's Kitchen business owners and New York City events.
A Mississippi native, Brown grew up with a substantial interest in news and entertainment, writing for his high school newspaper and serving as Minority Representative of the student government.
After receiving a full academic scholarship from his hometown's housing authority, Brown began his college career at Jackson State University. During his freshman year, he was accepted into the National Student Exchange program, which allowed him to transfer his studies to New York City.
Toussaint Campbell

Toussaint Campbell's Knight NewmarkJ internship is at The Haitian Times. He is a recent graduate of Nova Southeastern University, where he studied Communications, Public Relations and Marketing.
He also gained experience in student media at Nova. Toussaint worked at NSU's student-run station Channel 96, where he was involved in all stages of video production, from set-up to filming, production and editing. He was also a contributing writer at his campus' student-run paper, The Current.
Through his role as public relations and social media manager at Channel 96, Toussaint managed the social media pages for his department. He uses multimedia, data analytics tools and management platforms to collect data and maximize social media impact.
Toussaint was also involved with professional organizations, including the Society of Professional Journalists, Public Relations Student Society of America and the National Association of Black Journalists. He is a brother of Phi Beta Sigma Fraternity, Inc.
Sophia Ebanks
Sophia Ebanks' Knight NewmarkJ internship is at the Norwood News. She is a Bronx native and a graduate of the Macaulay Honors College at the City College of New York. Her concentration, "Health, Politics and Narratives of Urban Life,"  has developed her extensive background in anthropological research and fieldwork in communities of color.
In 2016, Sophia served as first editor-in-chief of her school's chapter of the nationwide student newspaper, Odyssey. She fostered a community of over 20 writers, producing high-quality work and garnering campus and nationwide attention.
Her own writing focused primarily on race, gender, spirituality, health and wellness. She also worked as an events and development intern at The Feminist Press, a historically revered publishing house covering women's rights and feminist perspectives. Sophia cherishes opportunities for allowing her to use multimedia tools and skills, creatively enacting social change, and furthering social justice.
Sophia believes that building community and solidarity are invaluable resources in life. Along with her involvement in student and community-led activist groups, her writing and creative skills have helped her to express the vision that she holds for a better world.
Mion Edwards

Mion Edwards' Knight NemarkJ internship is at Chelsea Now. Mion is from the nation's capital Washington D.C. A recent graduate of Hampton University, Mion majored in broadcast journalism with a minor in marketing.
In 2015, Mion started her wellness and style blog, StylesbyMion, where her passion for storytelling, female empowerment and fashion collide.

Last summer, Mion interned with Campus Society in London as an engagement lead and editorial intern. She coordinated internal communications with over 50 bloggers on the site, and created compelling blog posts and other content for blogger network channel.
She also participated in a three-day intensive training session with Bloomberg News, where she developed her skills in business journalism, the Bloomberg terminal, social media reporting, and covering the world economy. Mion has networked with senior level executives in economic, political and production sectors.
Mion has also interned for Harlem's Fashion Row, a social company that provides a voice and creative platform for multicultural designers. She strives to be a truth-seeking writer, working to uncover stories that impact others.
Kat Hernandez

Kat Hernandez's Knight NewmarkJ internship is at WNYC Public Radio. She is a multimedia journalist based in New York City and holds a bachelor's degree in Food Journalism through the CUNY Baccalaureate for Unique and Interdisciplinary Studies Program. 
She was a food reporting fellow for Feet in 2 Worlds, covering stories about immigrant cultures and food traditions. Her work has been published on The Salt: NPR, PRI's The World, Edible Manhattan, Harlem Focus and more.
Kat was a 2016 New York Women in Communications scholarship recipient. She is interested in covering migration patterns for Dominican, and teaches middle-schoolers in low-income neighborhoods how to cook healthy meals.
Gustavo Huerta
Gustavo Huerta's Knight NewmarkJ internship is at the Mott Haven Herald. He is a photojournalist, born and raised in Houston, Texas. He earned his Bachelor of Liberal Arts degree with a concentration in Print Journalism at the University of Texas-Rio Grande Valley.
Gustavo's passion to cover social and civil issues faced by under-served communities stems from his Latino and queer background. He uses his drive for journalism to help him achieve his goal of becoming a documentary visual storyteller.
Through his determination to master photography, Gustavo was able to document a wide variety of stories in the southernmost tip of Texas. He began amplifying the voices of DACA recipients, LGBTQ+ members and Colonia, Texas, residents when he was first brought on his university magazine, Pulse.
He quickly adjusting to the newsroom and was promoted from intern to photo-editor after one semester. He received honorable mention for On-Site Two-Person Photo Essay at the Texas Intercollegiate Press Association and second place in News Feature Story at the Associated Collegiate Press.
Gustavo founded and published Jacaranda, a yearly print magazine in South Texas, which serves to tell the stories of Rio Grande Valley residents.
Katelyn Joyce

Katelyn Joyce's Knight NewmarkJ internship is at Solutions Journalism. She is an aspiring journalist from Jersey City, N.J. She graduated from Saint Peter's University this spring with a bachelor's degree in English Literature and a minor in Journalism.
During her time at Saint Peter's University, Joyce was active in the school newspaper, The Pauw Wow, as a staff writer and lifestyle editor. She also wrote several poems for Saint Peter's literary magazine The Pavan.
Katelyn spent one semester interning with New Beauty magazine. While there, she has assisted the editor with researching article content, developing social media, and shadowing journalists. She has also interned as a social media marketing writer for Propaganda Today, a social media and communications agency focused on brand storytelling and transformative narrative for small businesses.
In addition to writing, Joyce also developed a passion for multimedia journalism and enjoys working both behind and in front of the camera.
Katelyn  is a member of the National Association of Hispanic Journalists, The National Society of Leadership and Success, and the International Honor Society in Education. She is also a Gold Cross Key recipient at Saint Peter's University in recognition of distinguished service to the student body.
Nisa Khan

Nisa Khan's Knight NewmarkJ internship is at ProPublica. She is a rising senior at the University of Michigan, where she studies Information Science. Her concentration is in User Experience and Web Design. She is also minoring in English and was part of a research team studying media coverage of the Flint water crisis.
She has worked at The Michigan Daily, the University of Michigan's independent student newspaper, as a news editor and the 2017 summer editor-in-chief. Nisa was an editor for Michigan in Color, a section of The Daily where she helped to curate people of color voices on campus. She was in the 2017 VOICES cohort as a member of the Asian American Journalists Association and collaborated on a multimedia project about South Philadelphia with others in her cohort.
Nisa was an investigative intern for Ann Arbor's local NPR station, Michigan Radio. She assisted with data gathering and research for long-term projects important to the state, such as follow-ups regarding the water supply in towns and coverage of Michigan State University's current litigation.
Nisa is invested in multimedia experiences and visualization and human features pieces and long-forms. She also loves the idea of personalizing data and making information accessible for all readers.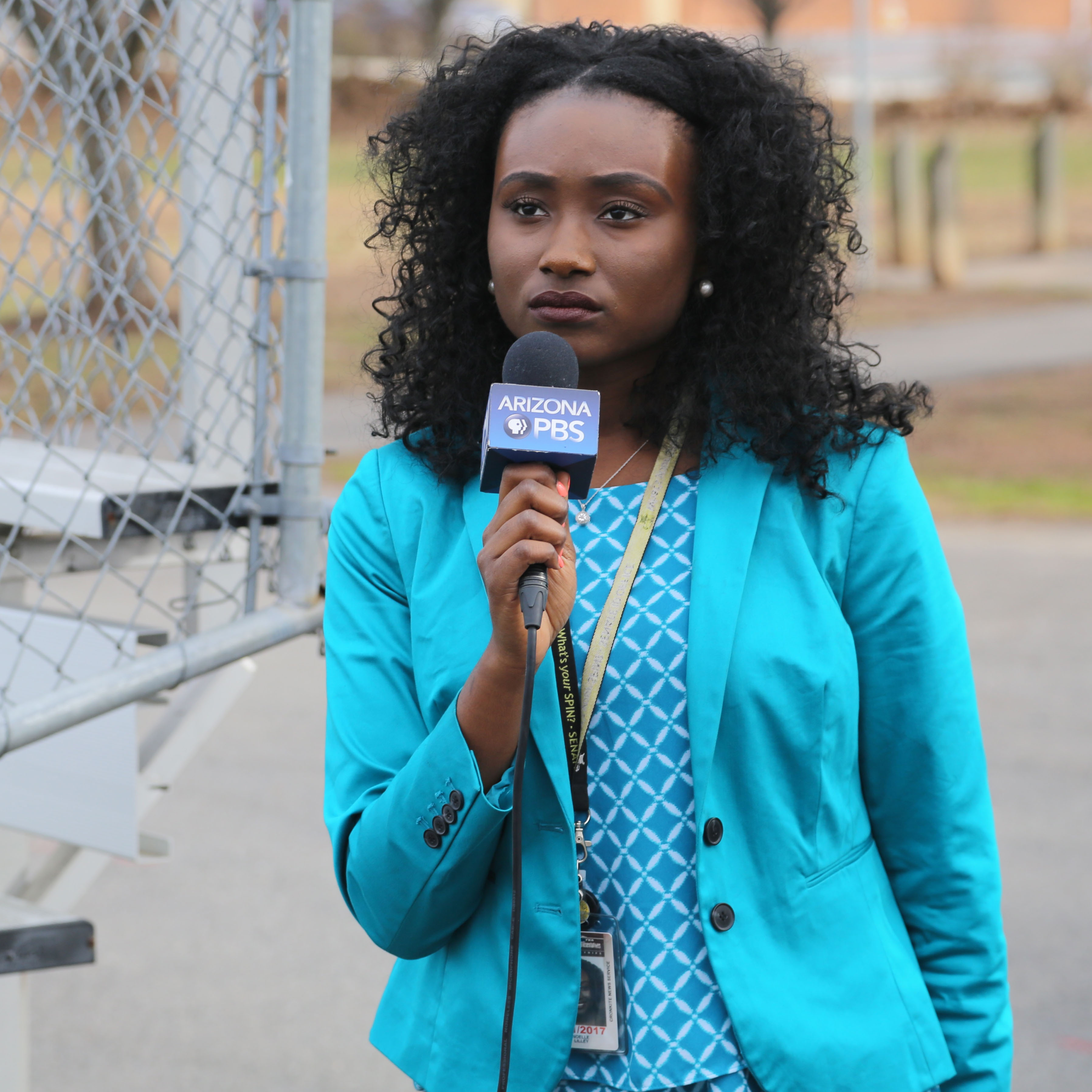 Noëlle Lilley

Noëlle Lilley's Knight NewmarkJ internship is at amNewYork. She is a Southern California native who recently graduated from the Walter Cronkite School of Journalism and Mass Communication at Arizona State University, where she concentrated in Broadcast and minored in Film and Media Production.
Noëlle has anchored and reported for "Cronkite News" on Arizona PBS where she spent the summer of 2017 as an education reporter. During this summer, Noëlle broke the news of 2017 Congressional Baseball Game shooting. She was the only member of the press present when the shooting occurred at the Republican team practice in Alexandria, Va. The university nominated her for a Hearst College Journalism Award for her reporting.
Additionally, Noëlle has worked as an opinion columnist, arts and entertainment reporter and podcaster for her university's award-winning newspaper, The State Press. She has also worked as on-air talent and off-air production for a variety of shows on her university's award-winning radio station, Blaze Radio 1330 A.M.
In the fall of her senior year, Noëlle worked as a production intern for "KPNX 12 News" in Phoenix, Arizona. She was vice president for her college's chapter of the National Association of Black Journalists.
Victoria Mba-Jonas

Victoria Mba-Jonas' Knight NewmarkJ internship is at The Haitian Times. She is a graduate of Howard University, where she studied journalism and graphic design. 
She is a native of Prince George's County, Md. Victoria has interned for the American Society of Magazine Editors, Essence, DC Modern Luxury, Kapital and Feather magazines. She  also created content for several of Howard University's media outlets, including 96.3 WHUR-FM, 101 Magazine, HU News Service and The Hilltop newspaper.  
Victoria uses her skills in writing, graphic design and video production to create multimedia stories in topics including culture, beauty, lifestyle, love and relationships. She brands herself as "Fearless VickyJ," because she lives, writes and creates fearlessly.
.
Korey Matthews
Korey Matthews' Knight NewmarkJ internship is at Starfish Media Group. He recently graduated from Morgan State University in Baltimore, Md., where he majored in Multimedia Journalism.
He is a native of Baltimore and has a passion for all forms of storytelling. At Morgan State, he was the social media editor of The MSU Spokesman, Morgan's student-run newspaper. He also served as the vice president of Morgan's student chapter of the National Association of Black Journalists.
Korey has interned at WEAA 88.9 FM, Seacrest Studios at Children's National Hospital in Washington D.C., and at SiriusXM Satellite Radio in Washington D.C.
He enjoys writing. Korey has written and directed a short film, "The Big Break," and he served as the lead writer for a documentary called "Murder and the Butterfly Effect." He looks forward to working in radio, and one day owning his own media company.
Evelyn Moreno

Evelyn Moreno's Knight NewmarkJ internship is at Democracy Now! She is a first-generation college student who recently graduate from the University of Texas at Austin, where earned a Bachelor of Journalism with a minor in Geography.
Growing up, Evelyn was constantly inspired by the stories her grandma told, encouraging her to pursue storytelling. She believes in the significant role journalism plays in any society. Through her reporting, Evelyn aspires to amplify the voices of those that are often overlooked in media coverage, hold people in power accountable and bring awareness to impactful issues concerning under-served communities and future generations.
As an intern at the Knight Center for Journalism in the Americas, Moreno reported in Spanish – something she aims to do more of. She is passionate about making English stories accessible to Spanish-speaking audiences and vice versa.
As a photographer for The Daily Texan, she documented protests, lectures and more. Evelyn gained experience in monthly publishing during her time as an editorial intern at Texas Parks & Wildlife Magazine, where she combined her love for writing and geography.
One of Evelyn's favorite things about the reporting process is meeting people from different backgrounds. She believes that stories allow people to find a common ground with one another and hopes to utilize different mediums such as text, photography, video and audio to share ones that can resonate with the public.
Sean Parrish

Ya'at'ééh! Sean Parrish's Knight NewmarkJ internship is at Voices of New York. He represents the Diné Nation of the four corners region. Sean was born in Tucson, Ariz., and resides in Lawrence, Kan. He is earning his bachelor's degree at Haskell Indian Nations University, where he is majoring in Indigenous and American Indian Studies.
Sean is a member of the Sigma Nu Alpha Gamma Inc. fraternity and the Native American Journalists Association. His extracurricular activities include a position on Haskell Student Senate as the Junior Class Representative.
He is a grateful for the mentorship of Rhonda Levaldo, a journalist, media communications professor and former NAJA president. His  aspirations to be a journalist started when he enrolled in a News Writing 1 course during his freshman year. This course provided him the opportunity to express his creativity by allowing him to compose stories and capture photos for The Indian Leader Association, which is the first Native American student newspaper established in 1897.
Sean's main focus as a journalist is to bring out the voice of culturally oppressed people who do not have a voice, while strengthening the trust between the public and the Fourth Estate.
Jenny Pedraza

Jenny Pedraza's Knight NewmarkJ internship is at Democracy Now! A native Colombian who grew up in Brooklyn, Jenny Pedraza is a recently graduated from Hunter College, where she majored in Media Studies and minored in English.
Since the beginning of her professional life, Jenny  has directed her energy to the editorial side of journalism, attempting to use an adopted yet universal language as a way to defend her identity and that of her community, and to give a voice and presence to queer woman of color in the media.
Jenny has previously worked in the Bronx-based publication The Hunts Point Express, in which she wrote pieces that explored in depth topics of identity, immigration and the arts, among other issues affecting Bronx residents and the New York Hispanic community at large.
Through her work, Jenny aims at changing the perception that some people have towards a person with an other-centric accent and how the written word, as well as the spoken one, could become a major differentiator when it comes to the promotion and representation of diversity.
Jenny has also written content for a non-for-profit organization called PCI Media, which uses the power of storytelling and entertainment to educate disadvantaged societies on issues that are often overlooked.
.
Michaela Román

Michaela Román's Knight NewmarkJ internship is at Starfish Media Group. She is a multimedia journalist with a bachelor's degree from the University of Texas at El Paso, where she majored in Digital Media Production and Multimedia Journalism.
Born and raised in El Paso, she is of Puerto Rican descent. At age 15, Michaela saved money for her first DSLR camera, pursuing her love for photojournalism after she discovered her love of communicating with others through photos. Since then, Michaela has continued to run her own photography business. She freelances for local outlets and publications.
At UTEP, Michaela was the editor-in-chief of her student-run newspaper for four semesters as well as photo editor for seven semesters. She won multiple national and statewide awards for her work. Michaela previously interned at the Kitsap Sun, a daily paper in Bremerton, Wash., where she wrote in-depth stories, produced visual content and packages and worked with social media.
Michaela is a member of the National Association of Hispanic Journalists and served as treasurer and vice president of her university's NAHJ student chapter.
Natalie Shields

Natalie Shields' Knight NewmarkJ intenship is at The Nation. She is a New York City-based multimedia journalist, freelancing as an editor and writer. Natalie graduated from the Colin Powell School for Civic and Global Leadership at the City College of New York with a degree in International Studies, a concentration in Culture and Communication and a minor in Journalism.
As an independent journalist, Natalie has covered stories from United Nations and reported on local events throughout New York City. She is passionate about international affairs, global development, health, sustainability and community reporting. Her aim is to share relevant news from a world-citizen perspective.
With experience in online, print and broadcast media, Natalie's work has appeared in the Daily News, the TimesLedger Newspapers and Queens Courier, among other local media outlets.
She is the recipient of an American Society of Newspaper Editors Quill and Scroll award and a member of the National Association of Black Journalists.
Alexa Spencer

Alexa Imani Spencer's Knight NewmarkJ internship is at USA Today. She is a rising senior and a first-generation college student at Howard University, majoring in journalism and minoring in Afro-American Studies.
An aspiring investigative journalist and documentary filmmaker, Alexa plans to focus her coverage on human and civil rights. For two years, Alexa served as a writer for the Hilltop newspaper — covering issues such as socioeconomic inequality and police brutality.
She covered the Obama Administration as a member of the White House Press Pool for Thomson Reuters news agency and landed an internship at ABC 7 Investigative News. Alexa was awarded the Discover the Unexpected fellowship last summer, where she and seven  HBCU students were chosen to report at historically black newspapers. As a fellow, she covered local politics and education at The Washington Informer in Washington, D.C.
Recently, Alexa was selected as a 2018 White House Correspondents' Association scholar. She is also committed to servant-leadership, and has served as Howard student-facilitator of Justice for Juniors, a program in which students mentor incarcerated youth. She was also Prom Dress Drive Chair for the National Council of Negro Women, Howard University Section; and Site Coordinator for Alternative Spring Break 2018 in Anguilla.
Elizabeth Ucles

Elizabeth Ucles' Knight NewmarkJ internship is at WNYC Public Radio. She is a rising senior of St. Edward's University in Austin, Texas, with a degree in Writing and Rhetoric, Spanish minor and a concentration in Journalism.
She has always had a passion for journalism since childhood, creating a daily "newspaper" that covered news in her home, delivering the paper to different rooms in her house.
Elizabeth started as a staff writer for the St. Edward's University newspaper, Hilltop Views. Since then, she has become the Life and Arts editor, covering events like the Austin City Limits music festival. She worked at Texas Monthly as a Custom Publishing intern, and at Austin Monthly as an editorial intern.
She has contributed to print and online content at Austin Woman magazine as an Editorial and Digital intern, where she wrote profiles on the diverse women of Austin, including businesswomen, founders and entrepreneurs. She has also worked in radio for KUT, Austin's NPR affiliate, as a Texas Standard intern.
Elizabeth enjoys writing and is passionate about subjects surrounding arts and entertainment, news, the Latino community, mental health and women.